New logo for NWORTH as the clinical trials unit continues to grow
The North Wales Organisation for Randomised Trials in Health and Social Care (NWORTH) is the UKCRC registered Clinical Trials Unit in North Wales (#23). NWORTH offers a highly collaborative service to enable research teams to design and deliver high quality studies in health and social care. With over one third of all outline applications being funded over the past three years, NWORTH's success rate is very strong and reflects the agile, flexible and tailored service that we provide. During 2015-18, 24 grants were awarded.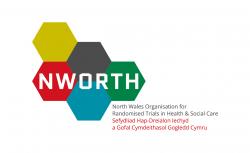 To reflect our ambition to grow further we have undertaken a democratic process within the Unit to select a new logo. We hope you like it. Our new logo reflects how we see ourselves as a key member of research teams in the design and conduct of clinical trials and studies of complex interventions. We are an important component of both the Health & Care Research Wales infrastructure and the Bangor Institute of Health and Medical Research. As part of our new marketing strategy, we hope to continue to grow our business and help research teams be successful in winning grants to make a meaningful difference to the people of Wales and beyond.
Publication date: 12 September 2018